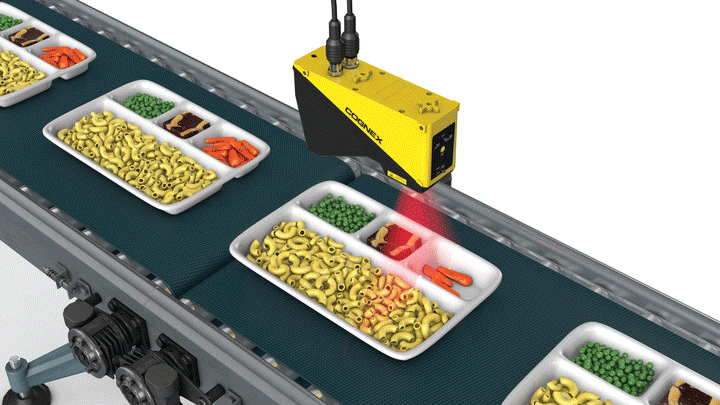 Portioning inspection
Credit: Cognex Corporation
Portioning inspection
Detect volume and portion errors to maximize yield and reduce waste
Measuring the volume of food products during assembly to check portion size
3D displacement sensors examine portion dimensions before packaging.
Unrivaled precision in portioning
Machine vision solutions, combined with Cognex 3D motion sensors, provide exceptional accuracy in measuring the volume of food products during assembly. This ensures that portions are equal and accurate, avoiding customer disappointment and preserving the manufacturer's reputation. Accurate detection of volume and portion errors helps maximize yield and reduce waste, while maintaining consistency.
Savings time and effort
With 3D calibration, manufacturers can easily set the desired portion size and cutting points during the processing process. Factory-calibrated Cognex 3D displacement sensors enable efficient 3D inspection of food products. This simplifies visual inspection and volumetric measurement, saving time and effort while ensuring uniform portions.
Improved quality and consistency
Cognex 3D laser displacement sensors precisely measure the dimensions of each portion to ensure they meet specifications. This results in an overall improvement in the quality and consistency of food products, thereby strengthening customer satisfaction and brand loyalty.
Find out how we can help you modernize your facilities to achieve your performance and profitability goals.
Related inspections in the agri-food sector