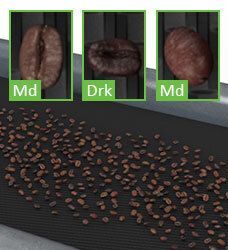 Inspection of coffee beans
Credit: Cognex Corporation
Inspection of coffee beans
Identification of batches of grains confirmed before their inventory
Verification of detection of physical contaminants, such as plant matter, stones, etc.
Acceptance of variation in overall differences between coffee bean varieties
Grade coffee beans to ensure the correct varieties are used in blends
Unrivaled sorting accuracy
Our AI-powered technology is able to quickly and accurately differentiate between different colors, sizes and textures of coffee beans, even within the same variety. This ensures that each type of bean is sorted precisely, eliminating the risk of mixing bean varieties, which could alter the flavor profile of the final product and dissatisfy customers.
Unrivaled flexibility
AI-based technology easily adapts to new coffee bean varieties without requiring complex programming. Simply provide her with a set of images of the new variety so she can recognize and sort it correctly. This allows coffee roasters and distributors to innovate by creating new blends without hassle.
Reliable detection of impurities
Our defect detection tool quickly and efficiently spots physical contaminants such as plant matter, stones and other unwanted materials. This ensures that only premium coffee beans are included in the blends, improving the overall quality of the final product and customer satisfaction.
Find out how we can help you modernize your facilities to achieve your performance and profitability goals.
Related inspections in the agri-food sector