Automotive industry Solutions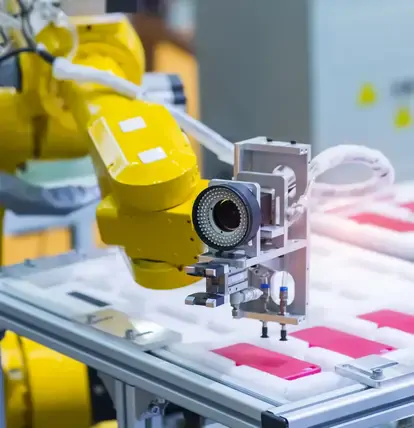 Cognex Vision Systems Applications
Automated inspection system design
Our team has a proven expertise in mechanical and electrical engineering. Our Engineers design and implement automated inspection systems that integrate flawlessly with manufacturers production lines. Our vision system integration service can help your organization achieve it's goals through multiple applications.
Tires and Wheels Systems
3D Tire Assembly Inspection
Automated Wheel Stud Detection
Tire and Wheel Identification
Tire Assembly Inspection
Tire Tracking and Sorting Automation
Wheel and Lug Nut Torquing
Wheel Fastener Inspection
Wheel Handling System Automation
Safety Systems
Airbag Canister Inspection
Airbag Component Inspection
Airbag Fabric Inspection
Brake Pad Inspection
Brake Valve Component Inspection
Seat Belt Fabric Inspection
Seat Belt Component Inspection
Torque Converter and Engine Valve Traceability
Powertrain Systems
3D Cast Component Inspection
Automated Engine Block Inspection
Cylinder Inspection
Engine Block Traceability
Oil Cap Assembly
Piston Ring Inspection
POPP Clamp Inspection
RTV Glue Bead Seal Inspection
Spark Plug Identification and Classification
Torque Converters and Engine Valves Traceability
Transmission Assembly Inspection
Transmission Control Module Inspection
Transport Tray Identification
Welding Seam Inspection
Advantages and benefits
Reduce errors, defects, waste and losses
Increase 

product

quality and consistency

Minimize downtime
Increase productivity and yield
Mecatronique is certified for Cognex integration projects
Certified Cognex System Integrator (CSI)
Vision Inspection project evaluation
Our team will estimate the feasibility and costs associated with implementing an automated solution to solve your inspection problems.
Services for automotive manufacturiers
Services offerts