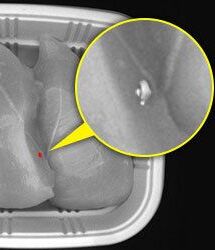 Automated Meat and Poultry Inspection
Credit: Cognex Corporation
Automated Meat and Poultry Inspection
Accuracy when visually classifying already packaged meat
Visual identification of plastic or polystyrene foam
Rapid detection of physical contamination elements
Automate meat and poultry pricing to ensure appropriate pricing.
Accurate classification for a fair price
Our AI-driven vision systems provide precise classification of each piece of meat or poultry, ensuring that each product is sold at its correct price. Your customers can have confidence that your pricing is fair, thereby increasing their satisfaction and loyalty to your brand.
Rapid detection of contaminants
With our defect detection tool, physical contaminants are quickly spotted and reported, whether they come from damaged packaging, machinery or other sources. This responsiveness ensures that only quality products leave your production line, improving your customer confidence and your turnover.
Adaptability to natural variations
The natural diversity of organic meat and poultry in terms of size, color and other aspects poses no problem for our AI-based systems. They intelligently adapt to these variations to classify each part accurately. Your production maintains its quality, and your customers obtain products that meet their expectations.
Find out how we can help you modernize your facilities to achieve your performance and profitability goals.
Related inspections in the agri-food sector