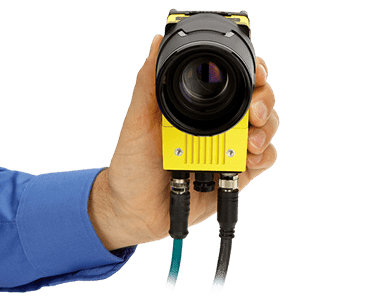 In-Sight 9000 Vision System
The In-Sight 9000 is a rugged and ultra-high-resolution standalone vision system that provides high accuracy part location, measurement, and inspection over a large area. This system can acquire and process exceptionally detailed images, even when mounted at longer distances.
Customers can choose between line scan and area scan image acquisition options for continuous imaging of moving objects or stationary ones. The full suite of vision tools available through the In-Sight EasyBuilder interface solves a wide range of applications across industries.
The In-Sight 9000 captures a large field of view, which allows inspection of sizable objects while maintaining exceptional image resolution. This feature enables users to mount the vision system away from conveyors and hazardous equipment, maintaining a safe distance.
Using the In-Sight 9000 eliminates the need for multiple cameras in applications with large objects or parts, reducing complexity, calibration requirements, and cost compared to multi-camera systems. The self-contained unit reduces the amount of equipment to be installed on space-restricted production lines. Additionally, the IP67-rated housing protects the system from liquids and dust without the need for an external enclosure.
Overall, the In-Sight 9000 delivers outstanding performance, flexibility, and durability. Its exceptional imaging capabilities, versatile toolset, and rugged design make it an ideal solution for applications in various industries.
Get product pricing
Cognex delivers the widest range of image-based factory automation and distribution products to help companies like you ensure error-free production, lower costs, and manage your supply chain: