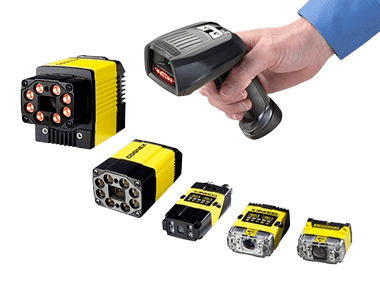 Credit: Cognex Corporation
Cognex Dataman Barcode Readers Features and Specifications
Cognex Dataman barcode readers
Barcodes are machine-readable data representations attached to objects for tracking throughout their lifecycle. Popular symbologies include UPC-A, Code 39, QR, and Data Matrix. Barcode readers include laser scanners and image-based readers. Laser scanners offer fast 1-D code reading from a distance. Image-based readers decode 1D/2D codes, even challenging DPM codes. 
Universally understood
Enable automation and speed
Provide traceability
Rapid scanning speed
Laser scanners can achieve scan rates of up to 1,300 scans per second, enabling swift data capture for efficient operations.
Enhanced code reading
Image-based readers surpass laser scanners in read rates, effectively decoding 2-D and omnidirectional codes, improving overall accuracy.
Comprehensive Data Capture
Image-based readers not only decode codes but also capture code images for data analysis, process enhancement, and quality control, fostering continuous improvement.
Get product pricing
Cognex delivers the widest range of image-based factory automation and distribution products to help companies like you ensure error-free production, lower costs, and manage your supply chain:
Browse Other DataMan Series Products
Cognex DataMan Series