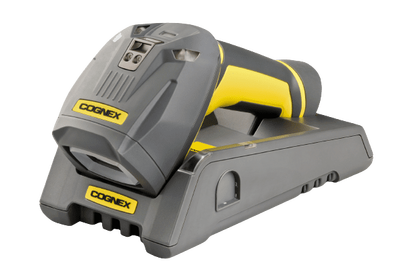 Credit: Cognex Corporation
Dataman 8600 Series features & specifications
Cognex Dataman 8600 Series Handled Barcode Readers
The Cognex Dataman 8600 Series is a versatile handheld barcode scanner. The depth of field applicability and versatility of integrated liquid lens technology is maximized. UltraLight technology, which is patented, provides improved image formation on any type of mark and surface.
Improved performance for reading the toughest DPM codes
State-of-the-art technology to decode 2D, 1D and DPM codes with high accuracy
Resistance to harsh industrial environments
Read on a variety of complex surfaces
Create data and reports on the quality of your codes automatically.
The barcode verification software on the Cognex DataMan 8600 Series gives simple visual diagnostics to identify spot or pattern code quality concerns. It assigns an overall score to a code based on measurements of ISO-defined quality parameters. These parameters assess a variety of characteristics that influence a barcode reader's capacity to recognize and read a code, hence optimizing read rates further down the line.
Exclusive modular industrial communications
The DataMan 8600 series supports Ethernet communication with industrial protocols, allowing for simple integration into industrial automation systems. Other standard connectivity possibilities, such as USB, RS-232, and Bluetooth via a smart base, are also prominently incorporated. Field-swappable communication modules enable a single reader to be modified to satisfy specific and constantly changing communication requirements.
Most Advanced Handheld Imaging System
The DataMan 8600 series has enhanced UltraLight technology, a high-speed image sensor, and a new liquid lens with a wide depth of field. These technological developments enable DataMan 8600 Series readers to image barcodes on a variety of surfaces, both near and far.
An answer to the toughest reading needs in the industry
DataMan 8600 Series readers are excellent for applications in any industrial setting that require unrivaled reading capability for all forms of barcodes, whether directly printed (DPM) or on labels.

Transmission sets Engine assemblies

• Car kits

• Aeronautics

• Reception control

• Oil and gas

• Electronic device manufacturing
Get product pricing
Cognex delivers the widest range of image-based factory automation and distribution products to help companies like you ensure error-free production, lower costs, and manage your supply chain:
Browse Other DataMan Series Products
Cognex DataMan Series