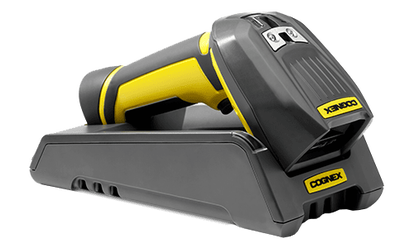 Credit: Cognex Corporation
DataMan 8050 features & specifications
Cognex Dataman 8050 Handled Barcode Readers
DataMan 8050 series handheld barcode readers are equipped with patented decoding algorithms to read well-marked 1D and 2D barcodes, including direct part mark (DPM) codes, in the harshest manufacturing environments. The flexible modular design ensures the DataMan 8050 series readers are ready to meet ever changing communication needs.

Patented decoding algorithms
Reads well-marked 1D and 2D barcodes including DPM
Rugged Industrial Design to handle the harshest environments
Modular Communications for Maximum Flexibility.
2D Barcode Reading
Unique technology offering best-in-class performance. DataMan barcode readers deliver reliable read accuracy thanks to 2DMax with PowerGrid. Accurate reading of 2D barcodes, whether it's a simple code on a label or a complex code on a variety of materials.
1D Barcode Reading
Use of Cognex DataMan's 1DMax algorithm and Hotbars technology for high read rates and adaptation to variations in code quality. Dataman 8050 can read fast-moving 1D barcodes, such as those seen in food or beverage production lines. It can also read 1D barcodes on stopped, slow-moving, or hand-returned products to the barcode scanner.
Modular Communications for Maximum Flexibility
Intuitive setup allows the user to configure the communication and data formatting settings for many common applications. Field interchangeable communication modules enable one reader to be configured to meet specific communication needs to support RS-232, USB, and Ethernet options.
Rugged Industrial Design
DataMan 8050 series barcode readers are constructed to handle the harshest environments in automotive body and assembly, electronics manufacturing, shipping and receiving, packaging, and aerospace applications. Industrial features include a lanyard hook for easy retractor mounting, bright centralized aimer for clear targeting, and a loud beeper and indicator lights for operators.
ESD-Safe Housing Options
Electrostatic discharge (ESD), the sudden flow of static electricity between two objects, is a costly and dangerous threat to a broad range of industries. Select DataMan 8050 series models are designed with ESD protective housing to prevent costly damage to electronic parts and devices.
Get product pricing
Cognex delivers the widest range of image-based factory automation and distribution products to help companies like you ensure error-free production, lower costs, and manage your supply chain: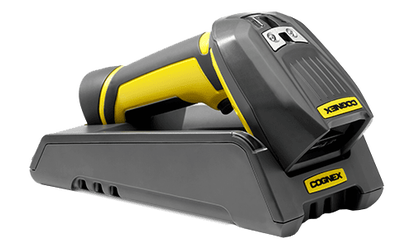 Credit: Cognex Corporation
DataMan 8050 Specifications
Specification
DataMan 8050
DataMan 8050X
DataMan 8050HDX
Algorithms
1DMax with Hotbars
1DMax with Hotbars, 2DMax, PowerGrid
1DMax with Hotbars, 2DMax, PowerGrid
Image Sensor
752 x 480 global shutter
752 x 480 global shutter
752 x 480 global shutter
Trigger
Handle trigger, presentation
Handle trigger, presentation
Handle trigger, presentation
Status Outputs
LED, beeper
LED, beeper
LED, beeper
Aimer
Centralized LED aimer
Centralized LED aimer
Centralized LED aimer
Lens Options
Fixed focus
Fixed focus
Fixed focus
Lighting
Integrated LED with near/far optics
Integrated LED with near/far optics
Integrated LED with near/far optics
Communication
Serial module: RS-232, USB
Serial module: RS-232, USB
Ethernet module: TCP/IP, FTP, industrial protocols: Ethernet/IP, PROFINET, MC Protocol, ModBus TCP
Serial module: RS-232, USB
Ethernet module: TCP/IP, FTP, industrial protocols: Ethernet/IP, PROFINET, MC Protocol, ModBus TCP
Dimensions
210 mm x 155 mm x 85 mm
210 mm x 155 mm x 85 mm
210 mm x 155 mm x 85 mm
Depth of Field
7 mil 2D Code: Up to 40 mm
10 mil 2D Code: Up to 80 mm
6 mil Code39: Up to 90 mm
4 mil 2D Code: Up to 55 mm
5 mil 2D Code: Up to 75 mm
Not specified
Protection
IP65
IP65
ESD Standards Compliance
IEC 61340-5-1:2016 (select models only)
IEC 61340-5-1:2016 (select models only)
IEC 61340-5-1:2016 (select models only)
DataMan 8050 Series interactive view
360 degree interactive view
Browse Other DataMan Series Products
Cognex DataMan Series