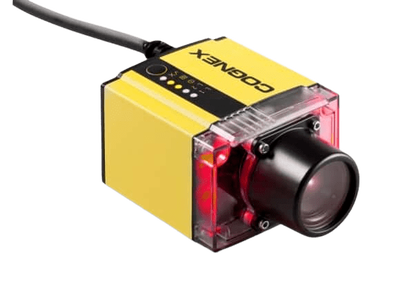 Credit: Cognex Corporation
DataMan 500 Series Features and Specifications
Cognex Dataman 500 Series barcode readers
The DataMan 500 Series is the first ID reader to use a proprietary vision chip dubbed the Cognex VSoCTM. The DataMan 500's VSoC allows unrivaled barcode reading performance and ease-of-use not found in other image-based or laser systems on the market today.
Accurate and reliable reading of complex barcodes
Fast barcode processing for high productivity
Intuitive and efficient use of the barcode reader
Interchangeable lens and light options
The DataMan 500 Series offers flexible lens and interchangeable lighting options to achieve greater depth of field than other imaging-based barcode scanners. Lens options include a choice of C-mount or liquid varifocal lens, while lighting options include integrated LED lighting and a high-powered lighting accessory for high-performance reading.
Extended connectivity
The DataMan 500 Series supports Cognex Connect™ communication capabilities, including EtherNet/IP and PROFINET. This allows the barcode reader to be accessed from any network-connected terminal, without requiring a host PC for data translation to a central PLC or network. The protocols also allow direct archiving of data files and images via FTP support for later review and analysis.
Advanced network performance
With extensive connectivity, the DataMan 500 Series delivers advanced network performance, enabling seamless integration into industrial systems and networks. This simplifies data and image management, as well as integrating the barcode reader into industrial applications.
Get product pricing
Cognex delivers the widest range of image-based factory automation and distribution products to help companies like you ensure error-free production, lower costs, and manage your supply chain:
Browse Other DataMan Series Products
Cognex DataMan Series