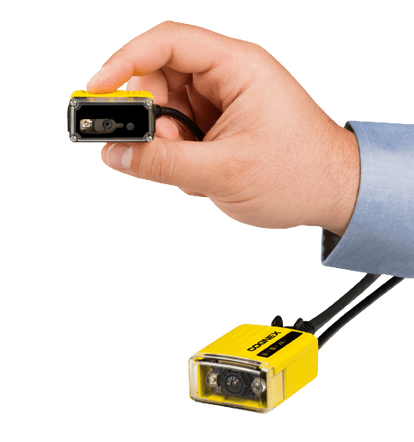 Cognex DataMan 50-60 Series
Credit: Cognex Corporation
DataMan 50-60 Series Features and Specifications
Cognex Dataman 50-60 Series Barcode Readers
The DataMan 50-60 Series feature the same powerful, patented barcode scanning technology, visualization for performance feedback, and solid-state design as the high-end scanners from Cognex, but in a smaller package. DataMan 50-60 series barcode readers are priced similarly to existing laser scanner solutions.
Advanced technology for laser scanner users
Wide range of models including options for reading oriented 1D barcodes, omnidirectional 1D barcodes and 2D barcodes
Reading damaged, distorted, blurry, scratched, low height or low contrast 1D linear barcodes
Technology Hotbars™
Hotbars™ technology is a proprietary technology that delivers the highest read rates for 1D linear barcodes, including those that are damaged, distorted, blurry, scratched, low pitch, or low contrast. This ensures accurate and reliable barcode reading.
Fonction IDQuick™
The IDQuick™ feature provides fast and accurate 2D barcode reading for DataMan 50-60 Series models. This enables accurate capture of data contained in 2D barcodes.
Solid state design
The DataMan 50-60 Series are designed with no moving parts that wear out and require replacement. This ensures high durability and reliability, reducing maintenance and replacement costs. RS-232, USB and Ethernet (DataMan 60 models) connectivity options provide flexibility in integration with other systems and equipment.
Get product pricing
Cognex delivers the widest range of image-based factory automation and distribution products to help companies like you ensure error-free production, lower costs, and manage your supply chain:
Browse Other DataMan Series Products
Cognex DataMan Series