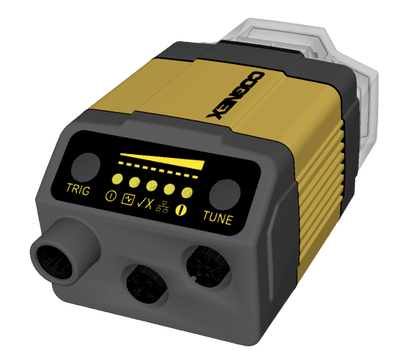 Cognex Dataman 300 Series
Credit: Cognex Corporation
DataMan 300 Series features & specifications
Cognex Dataman 300 Handled Barcode Readers
The DataMan 300 Series is a high performance fixed mount identification reader.
Highest read rates on 1-D and 2-D codes
Most flexible optics and lighting
Smart Setup and Express Setup
Robust and user-friendly housing
Improved connectivity
The DataMan 300 Series offers enhanced Ethernet connectivity, compatibility with RS-232 and discrete I/O, as well as improved lighting and optics choices.
Versatility of use
The DataMan 300 Series can be easily configured for many applications by simply changing lighting or optics. This eliminates the need to order and stock different models for each application.
Ease of adjustment and implementation
The DataMan 300 Series has an intelligent adjustment feature that performs an automatic calibration routine to determine the best lighting and focal length combinations for each application. This simplifies the implementation process and ensures optimal performance.
Get product pricing
Cognex delivers the widest range of image-based factory automation and distribution products to help companies like you ensure error-free production, lower costs, and manage your supply chain:
Browse Other DataMan Series Products
Cognex DataMan Series