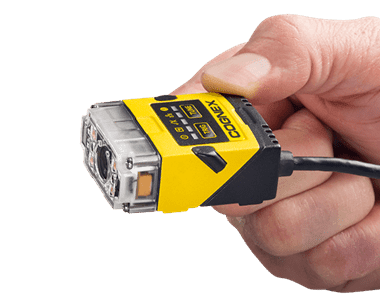 DataMan 150/260 Series Barcode readers
DataMan 150/260 series fixed-mount barcode readers can read 1D linear barcodes, higher-density 2D matrix codes, and direct part mark (DPM) codes.
The readers have a high-speed, dual-core processing engine that runs the latest Cognex algorithms, allowing for the highest possible read rates.
1DMax with Hotbars and 2DMax with PowerGrid technology enable the readers to decode damaged or poorly printed 1D and 2D codes, regardless of code quality, printing method, or surface they are marked on.
DataMan 150/260 series readers are available in straight or right-angled configurations, with in-line and ninety-degree options to eliminate the need for equipment redesign and complicated wiring or optical paths with mirrors.
Modular lighting and optics make it easy to change reader lenses and lighting in the field, reducing installation time and resources, and allowing for optimization of performance for each application and future process changes.
Get product pricing
Cognex delivers the widest range of image-based factory automation and distribution products to help companies like you ensure error-free production, lower costs, and manage your supply chain: